Medi-Cal Health Navigator Project
Through the Medi-Cal Health Navigator Project, The Center at Sierra Health Foundation in October 2020 awarded sub-grants totaling $2.3 million to a cohort of community-based organization partners to help facilitate Medi-Cal enrollment and retention in Amador, Calaveras, Lassen and Solano counties.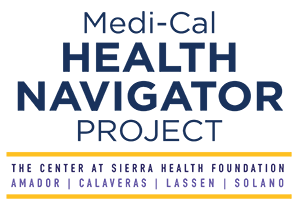 Funded Partners
Amador Tuolumne Community Action Agency (Amador and Calaveras counties)
Community Health Initiatives Napa (Solano County)
Nexus Youth & Family Services (Amador and Calaveras counties)
United Way of Northern California (Lassen County)
Populations of Focus
Populations of focus included households and individuals who were eligible for Medi-Cal, such as people with mental health disorder needs, substance use disorder needs and other disabilities, aged persons, homeless individuals and families, young people of color, immigrants and families of mixed immigration status, people with limited English proficiency, low-wage workers and their families or dependents, uninsured children, youth formerly enrolled in Medi-Cal, and people who are in county jail, on county probation, in state prison, on state parole or under post-release community supervision.
The Partnership
Funding for this project was from the California Department of Health Care Services.
The Center at Sierra Health Foundation administered the project.
Project Goals
Goal 1: Eligible beneficiaries in the four counties are enrolled in Medi-Cal as a direct result of being educated by or receiving assistance from health navigators.
Goal 2: Individuals on Medi-Cal in the four counties will continue to be enrolled for ongoing Medi-Cal benefits as a direct result of the Health Navigator Project.
Goal 3: Develop a four-county coalition with the infrastructure and capacity to advance and document the project's enrollment and retention goals.