Equity on the Mall 2022
Democracy in Action
June 1-2
Thank you to everyone who participated at Equity on the Mall!
The San Joaquin Valley Health Fund, The Center at Sierra Health Foundation, community partners and elected officials gathered to highlight the community-driven agenda for the San Joaquin Valley. We created a space for community leaders, nonprofit leaders and elected representatives to come together and talk about what matters to Valley residents.
We will post links to session recordings on this webpage.
Speakers and Presentations included:
The Valley is Rising, Chet P. Hewitt, Sierra Health Foundation and The Center President and CEO
The Future of the San Joaquin Valley, Young Elected Officials Nelson Esparza, Jewel Hurtado, Bryan Osorio and Eddie Valero
Representation in the Valley, Assemblymember Dr. Joaquin Arambula and Congressman Jim Costa
Affordable Housing and Compact Growth
Community Visions of Climate Justice
Education in Crisis
Health Equity for All
Immigrants' Rights in the San Joaquin Valley
Opportunities to Bridge the Digital Divide
Poetry by Pulitzer Prize Finalist Dr. Mai Der Vang
Equity on the Mall 2021
A Week of Democracy in Action
April 26-30, 2021
Equity on the Mall 2021 brought together San Joaquin Valley community leaders, residents and statewide partners to hold policymakers accountable to advancing the health and equity of all San Joaquin Valley residents. Partners highlighted the 2021 community-driven San Joaquin Valley Health Fund Policy Platform, with a focus on the impacts of COVID-19 on vulnerable populations, including the Digital Divide.
Virtual activities included a virtual bus tour, youth-led events, policy briefings, legislative visits and discussion panels.
Equity on the Mall is organized by the San Joaquin Valley Health Fund, The Center at Sierra Health Foundation and community partners. Please e-mail us any questions about Equity on the Mall or the San Joaquin Valley Health Fund.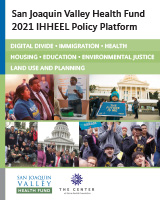 The
Policy Platform
serves as a year-round organizing tool for partners' local, regional and statewide advocacy and ongoing partnerships with impacted communities, elected representatives and policymakers. 2021 policy areas are Digital Divide, Immigration, Health, Housing, Education, Environmental Justice, and Land Use and Planning.
Equity on the Mall Kick-Off Rally
April 26, 2021
Virtual Bus Tour of Health in the San Joaquin Valley During COVID-19
April 27, 2021
Youth Perspectives and Solutions for Environmental Justice in the San Joaquin Valley
April 27, 2021
Housing and Land Use in the San Joaquin Valley
April 29, 2021
Immigration Enforcement and Unauthorized Practice of Immigration Law in the Golden State
April 29, 2021
Community-Led Movements Building a Robust Immigrant Integration Infrastructure in the San Joaquin Valley
April 30, 2021